All Your Problems - Solved!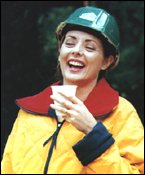 Carol laughs in the face of tricky problems.

Pooclub prides itself on the quality of the service it provides, not just to its members but also to its casual visitors.

One of the services we're particularly proud of is solving people's problems - honestly, we're really good at it! Our panel of experts can be relied upon to find a solution to absolutely anything, and I've got my hard hat on to tackle the really tricky ones.

It is our ultimate aim to solve every single problem in the world. This will make the pooclub Problems Page the sole point of contact for anybody who has a problem.

Our analysts have estimated that there must around 150 problems around the world, and are working tirelessly to track them all down and solve them. So, if you have any problems that we don't yet have a solution for, please send them to this address:

pooclub@shite.org

or post your problem on the pooboard where it will be picked up by a professional problem solver and solved in short order.

Here's what we've solved already . . .